Pigment yellow 14- a detailed explanation
Views: 7 Author: Site Editor Publish Time: 2019-11-22 Origin: Site Inquire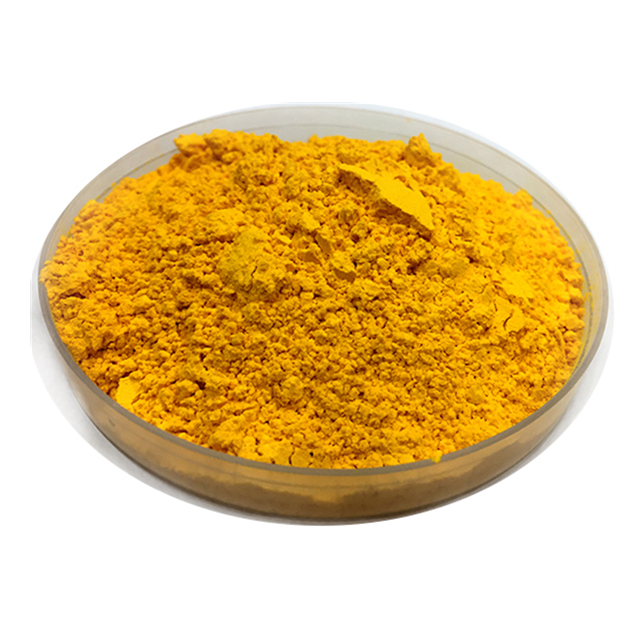 Chinese name: Pigment yellow 14, benzidine yellow BHT; Benzidine yellow RS; Pigment yellow 14 (C.I); Solid yellow GS; forever; Solid yellow G forever; 2, 2 '- [(3, 3' - dichloro [1, 1 '- biphenyl] 4, 4' - 2) double (azo)] double [N - (2 - methyl phenyl)] - 3 - oxygen generation ding amide; Haishu yellow 6314, C.I.P Igment yellow 14,2GS yellow
English name: Iron, iron, and iron
Butanamide, 2, 2 - (3, 3 - dichloro1, 1 - biphenyl - 4, 4 - diyl) bis (azo) bisN - (2 - methylphenyl) - 3 - oxo -
Benzidine Yellow 2GS (Pigment Yellow 14)
Pigment yellow 14 (C.I. 21095)
Fast Yellow GF-WI
Dominion Yellow AAOT - DCC 1201, 1202
Pigment Benzidine Yellow BHT
Benzidine Yellow RS
ER yellow 6314
1114 Fast Yellow 2GS
Domestic and foreign similar products:
Symuler Fast Yellow 5GF (DIC)
CAS: 5468-75-7 Color: red yellow Molecular formula: C34H30Cl2N6O4 Molecular weight: 657.55
Appearance: Yellow powder strength: 100±3% Structure: Bisazo melting point: 336℃, boiling point: 793.4°C at 760 mmHg
Shelf life: 36 (months) Specification: 25kg/ cardboard barrel
Features:
1. Red yellow organic pigment.
2. High thermal stability.
3. Good fastness to light and weather.
4. Bright colors and high coloring intensity.
5. High brightness and good transparency.
use
1. Mainly used for offset printing ink, water-based ink, plastic, coating printing, cultural and educational supplie.
2. It is widely used for packaging and printing inks abroad
3.for polyolefin, heat resistant up to 200℃
4. can be used in elastomer, rubber coloring, can also be used for viscose fiber and viscose sponge
5. Used for polyurethane synthetic leather, ink and paint, etc